Equipment Editor CHRIS EXALL says there'll be more lightweights on the slopes this season

THIS may be the year of the real skier, with more go anywhere boots on the shelves; lighter designs which are as at home hiking up as making arcs on the way down. Skis have more sidecut and the focus has moved away from big skis with wide waists to genuine all mountain boards that work on and off the groomed.
Lange's strength has always been the frontside of the mountain, groomed and hardpack. This year the XT Freetour looks like a Lange with their signature 4-clip two piece shell, but it's a serious touring boot with a cuff release and inserts for pin bindings, wrapped in a lightweight Grilamid shell.
Another boot that loves going under the ropes is Atomic's Hawk Ultra 130. Like all Hawx boots, the Hawx Ultra 130 comes with the Hawx feel and great out of the box fit, however it's around 25% lighter than its predecessor.
Less weight going up equals more turns on the way down. Rossignol's alltrack collection curs weight through the use of the sensorgrid shell, paring away unnecessary plastic to leave a unique look that has the look of the Bejing's bird's nest stadium.
Tecnica has refined it's popular Cochise collection, replacing a quirky but effective closure system with a more traditional 4 clip setup, also weighing in at a mere 1850grams.
In skis the madness is finally over. Manufacturers have finally realised that skis which have the dimensions of an ironing board are really only useful to someone who expects to get them for free. Instead deeper sidecuts and narrower waists are back.
Dynastar's speedzone collection is filled with deep sidecut skis that grip and cut arcs on the groomed. Though they're based on the company's race models and have a quick lively feel they will forgive the odd bad turn.
Rossignol's Pursuit series has a similar race bred feel, think of a GTi not formula 1. For someone who gets their kicks both on and off the groomed Rossignol's Experience collection is a little wider and floats in the deep, using new laminate, Carbon Alloy Matrix, which combines carbon and basalt fibers to blend dampness and liveliness.

There was a time when Blizzard's Quattro skis were the UK's top sellers but changes in management meant that the brand spent a number of years under the radar. Recognising the strength of the Quattro name Blizzard has brought it back and has already won the prestigious ISPO innovation award.
The mens' line has 8 models and 4 constructions with significant variations in flex and geometry between sizes. There are so many options that it's almost possible to choose a ski that is custom fitted for your needs.
Of course when it comes to race bred carvers for recreational skiers Head simply smiles and rightly points towards their Supershape collection which combines world cup technology and nobel prize winning wonder material graphene, stronger than diamonds and 300 times as strong as steel
Finally it's not just the Quattro that's back from the grave. Like Lazarus, Look bindings are back. Parent company Rossignol has decided that the brand will become the standalone binding for Rossignol Group.
Last year's award winning tech' is this year's normal
INNOVATION doesn't just come with big ticket products. As with Moore's law in computing, advances in snowsports technology mean that every year you either get more or pay less.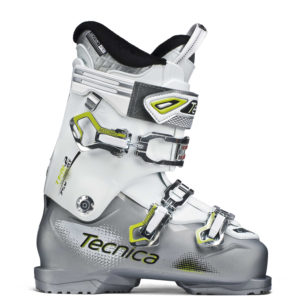 In the same way that buying a car with airbags and ABS used to come with a hefty Germanic pricetag, custom fitted liners and personal boot stretches used to be the preserve of the professional skier.
Now even mid-range models use liners and shells which after a little heat will cool down to take the shape of your foot and lower leg. Its technology trickle, where a feature developed almost in secret becomes the norm.
It's not many years since I was given a confidential briefing about a new wonder material that would allow a ski boot to be warmed up and it would magically conform to the skier's foot. The briefing was delivered in the top secret tones usually reserved for politicians when they're given the launch codes.
In 2008 Salomon introduced the material in their award winning Falcon CS which sold at £320, then a Rolls Royce price point. Now almost every manufacturer offers heat mouldable shells at price points more than £100 below that, with top of the range prices now hitting the mid £400s.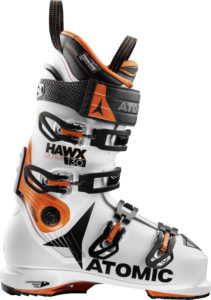 It's not just shell stretches, heat moulded liners can be purchased as an aftermarket product giving new life to a beloved shell where the inner has given up the ghost, or worse, when parked on the boot dryer they smell like a wet dog. However most aftermarket liners will cost you £150 or more, Tecnica's Ten.2 80HV boot arrives with a thermo moldable liner and retails for £160.
It would be easy to pause and suggest that the price is extraordinarily cheap, but as with cars or computers, last year's award winning tech' is this year's normal. So when we ask what's new, the answer might not be a clever new buckle or a new sidecut, instead it's that skiing's own spin on Moore's law is making life easier and cheaper for everyone on the slopes.