Emma Kirk-Odunubi and Max Willcocks – employees at Profeet in London – have set new world records for the fastest 100m while wearing ski boots.
Guinness World Records recently confirmed that Max is the new fastest male over 100m, with his time of 14.09 seconds eclipsing the previous record of 17.65 by Andre Ortolf, set in Augsberg, Germany in 2014.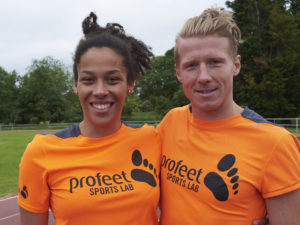 Emma's time of 16.86 seconds would have beaten the previous world record and now stands as the first official time for the fastest female over 100m.
Both Emma and Max are talented athletes and were determined to set fast times when the attempt took place at Barn Elms track in south-west London.
After a warm up session led by Craig McLean from Putney Chiropractic, and some short sprints to get the blood flowing, Emma and Max changed into Atomic Backland ski touring boots, specially selected for their lightweight and flexible qualities.
Max said: "This definitely isn't something I expected to be doing but I'm excited I managed to set a world record. Especially considering I hadn't run a 100m in a while so doing it in ski boots was a baptism of fire. I ski a lot and I run a lot so I guess this is a good way to celebrate the two together."
Emma added: "Running in the boots felt, of course, completely different to trainers. Being in ski boots made my hip flexors work harder as the boots were heavier so at the gun the driving phase felt tough. But it was great fun and I'm super happy to have a Guinness World Record."
Also on hand to witness the new world records was former-British Olympic downhill skier Konrad Bartelski.
Profeet (www.profeet.co.uk) is a sports footwear and orthotics specialist, based in Fulham, south-west London.
---
---