Val d'Isère is embarking on an ambitious €200m (£170m) building project to redevelop the centre of the world-famous resort.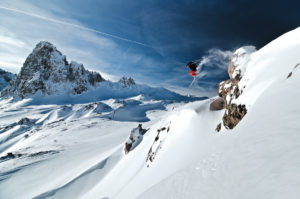 The project is being called Le Coin de Val d'Isère and involves the demolition and reconstruction of a giant triangle in the heart of the resort.
This extends for around 250m along the main road (Avenue Olympique) from the present bus station, in the direction of La Daille. The apex of the triangle is roughly the present site of Dick's Tea Bar. Dick's and Le Petit Danois bar are two of the many businesses that will be relocated, along with the central bus station.
There will also be a new piste into the centre of the village and an underground moving walkway from the centre of town will bring skiers back up to the main access lifts on the front de neige, the Olympique and Solaise gondolas.
The plans also involve:
* A total of 900 extra tourist beds, bringing the total to 25,760.
* Two new three- or four-star hotels, one of them with 51 bedrooms.
* Two apartment complexes and the prospect of around 100 new private homes.
*A new arrivals centre on the Avenue Olympique that will incorporate a welcome desk. Children's crèche and a covered bus station.
Le Coin, a joint project between the Val d'Isère town hall and local architect Jean-Charles Covarel, will replace a whole range of 30-year-old buildings. The first of these will be demolished this autumn.
But some locals have already suggested that this means the project will only get the go ahead if it gets the agreement of several existing and historic Val d'Isère families.
Environmental studies into the effects of the development will be carried out this coming winter prior to the issue of final building permits next spring.
Construction will be completed in phases, designed to have minimum impact on visitors during the winter months. Work is scheduled for completion in 2022.
www.valdisere.com/en/coin-de-val/
Other new improvements in Val d'Isère this winter include more snow cannons covering the long schuss back to town from the bottom of the Santons run ensuring cover throughout the season. This will then provide an alternative home run to the daunting black Face de Bellevarde.
There is also a long-awaited upgrade to the Datcha chair in the Solaise area which is being changed from fixed grip to a detachable quad.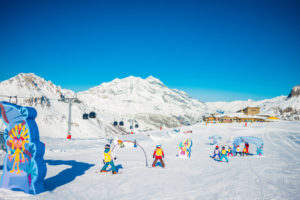 In the same area, the Sunny Ride nursery slope (going down to the Tête de Solaise Restaurant and served by the Poum covered magic carpet lift) will have a whole range of fun obstacles designed to help children learn to ski and snowboard.
L'Étincelle is a new on-piste restaurant near the bottom of Solaise, with authentic local cuisine and panoramic views of the ski area.
New boutique hotel
The oldest cable car station in France is being transformed into the country's highest hotel, with 360-degree panoramic views of the surrounding mountains.
The former cable car station at Tête de Solaise, which dates back to 1942, is to be converted into a 40-bedroom hotel with a luxurious spa and a restaurant with indoor and outdoor seating.
In winter the hotel can only be reached by the new Solaise gondola or by snowcat.
The scheduled opening date is December, 2018.
The 60-year-old Hotel L'Avancher has been almost completely rebuilt during summer 2017 to create comfortable four-star which includes 37 rooms, a gourmet restaurant, wine bar, spa with two hot tubs, two saunas and a steam room, games room, and covered parking
The four-star Hotel Ormelune has been re-clad and an extra floor with 10 suites and rooms has been added. The ground floor has been given a makeover, the gym and meeting room have been enlarged and the spa area now includes three treatment rooms.
Val d'Isère tour operator news
Ski Total has a lift pass and equipment offer. Pre-purchase your adult lift pass and you can purchase a second one at half price, plus receive 2-for-1 on ski/board/boot hire or ski carriage when an area lift pass is pre-purchased. Offer available on selected dates, click here for details.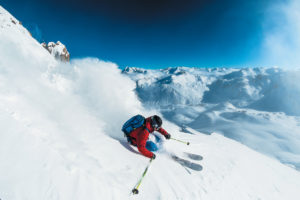 Chalet Hotel Le Savoie is a five-star property offering a choice of rooms and spacious suites, with a lovely spa area including swimming pool, and in a superb location in the centre of town. Prices from £974pp (was £999pp). This price is based on two adults sharing and includes return flights from Gatwick to Geneva departing 18/03/18, exclusive transfers, and seven nights chalet half-board.
Esprit Ski is offering Buy-One-Get-One-Half-Price adult lift passes, plus free children's equipment when parents pre-book quality skis/poles/boots, including helmets.
Stay in the central Chalet Hotel Ducs De Savoie from £475pp. The chalet hotel boasts a traditional interior with comfortable and spacious family rooms. This price is based on a family of four, (two adults and two children 2-10 years) from £1,899, travelling on the 21 January 2018. Price includes Gatwick-Geneva flights, transfers, free baby-listening and seven nights chalet half-board, Esprit Classic Childcare is available from £215 for a week of exclusive ski lessons.
Mountain Rooms has a new concierge service for booking restaurants and ski school. A dedicated member of staff will contact clients prior to arrival. The company is working with Bon Appetit to offer a range of frozen meals and desserts available to our self catered & B&B clients.
Ski Val is introducing January Supersavers – great value offers during January, ski from £679pp with return Gatwick/Lyon flights, transfers and catered ski in/out chalet accommodation.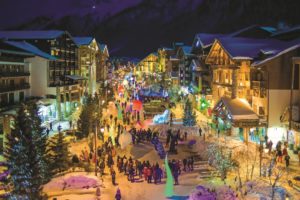 VIP has a new chalet, sleeping six, in the old village, close to the church.
Erna Low has a week at Les Chalets du Jardin Alpin in Val d'Isère at the start of the season, week commencing 16 December, a one bedroom apartment for up to 4 people is £751, two bedroom apartment (sleeps 4/6) is £1104). Flights/ transfers or Eurotunnel/ferry available on request.
---
---
Categories: France, Holiday News & Special Offers, News