New airline powdair has launched ticket sales through its website powdair.ski with a winter schedule that links Sion Airport with the UK.
Flights commence from 14 December, 2017 and will cut transfer times to some of Switzerland's most popular ski resorts for winter sports enthusiasts including Zermatt, Verbier, Saas Fee, Crans Montana and Nendaz. A variety of transfer options from Sion Airport to onward destinations are available to book at the point of ticket purchase, including shared and private journeys to the major resorts in the region.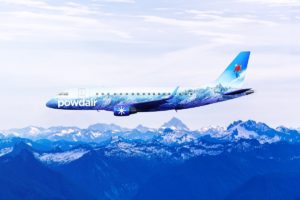 The airline claims that there will be very little fluctuation on ticket pricing across peak dates, meaning that families won't feel hard done by during the busier school holiday periods. Average prices will be around £140 and there is more good news for skiers and snowboarders because equipment is included in the ticket price.
The eight airports that will be served by powdair are – London Luton, London Southend, Southampton, Bristol, Manchester and Edinburgh. Flight times are typically between one hour 25 minutes and two hours.
Marcelline Kuonen, Head of Experience and Market Management at Valais Promotion, said: "We are looking forward to seeing direct flights into the Valais region and welcoming more guests into our fantastic region. Some of the world's top ski resorts are within easy reach of Sion Airport."
Zoë Ombler, Head of Commercial for powdair said: "It's not every day that we get to launch an airline and especially one that opens up a completely new route into an airport that is so close to some of the world's best ski resorts. The response we have already seen shows the kind of interest people have in the area and regular, scheduled flights into Sion are long overdue
FRANK BALDWIN found a load of nut cases when he visited the quirky ski area of Corvatsch in the Engadine Valley
When you think of St Moritz, it conjures up images of swanky hotels where the rich and famous stay while enjoying the skiing or the excitement surrounding the famous Cresta run, ice polo world cup, 'white turf' horse racing and other activities which take place during the winter on the town's frozen lake.
But take a 5km trip out of town and cross the road bridge that divides Lake Silvaplana and you'll find Corvatsch, another small but perfectly formed Swiss ski area at 1,870m that lives in the shadow of its illustrious neighbour.
It's difficult to ascertain the relationship between the two areas.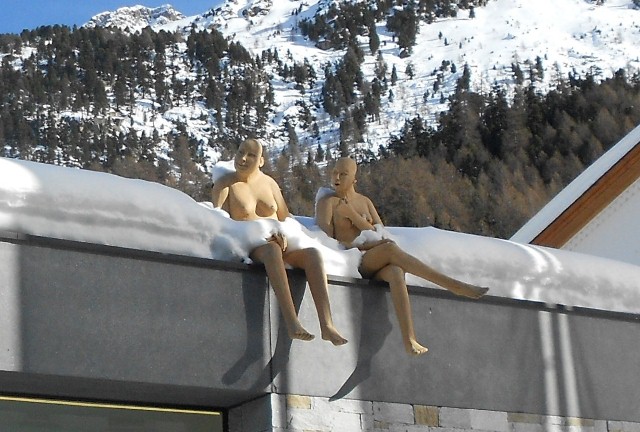 St Moritz probably views the smaller neighbour as a satellite village, whereas Corvatsch prefers to see itself as a wintersports area in it's own right where you can ski and snowboard on the 120km of daily groomed runs, experience the longest floodlit night ski run in Switzerland, and enjoy culinary delights at 3,303m while enjoying spectacular views of the Bernina mountain range.
Corvatsch claims to be the highest mountain accessible by cable car in the Engadine Valley. From the top station you can access the Corvatsch glacier, or take the 9km descent all the way to St Moritz Bad. Corvatsch also has something that St Moritz doesn't – a ski in-ski out hotel.
The Nira Alpina is a boutique hotel that opened in 2011. It's layout means that every one of its 70 rooms and suites have a large terrace or balcony overlooking the mountains and lake below. At the start of the day you don't even have to step outside to get to the Corvatsch cable car as it's connected with the hotel via a private bridged walkway.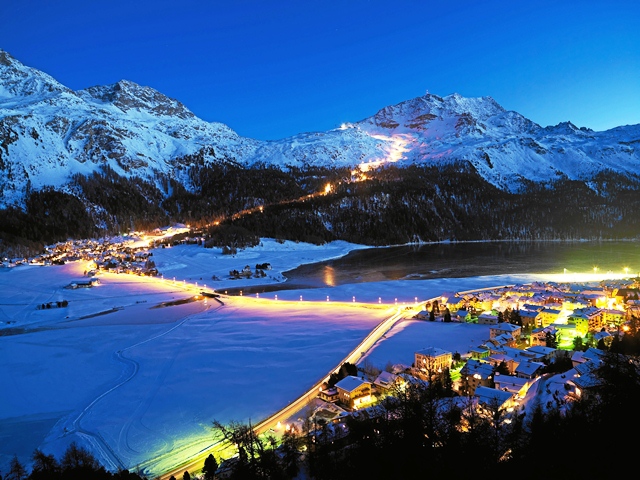 The hotel design was inspired by the quirky nature of the village, an example of which can be seen on top of one of the ski hire shops. Here you'll find what appears to be a carving of two full size nude models with snow strategically placed to protect their modesty.
As you enter the Nira Alpina you are greeted by full size horse statues with black lamps sticking out of their heads, and the animal theme continues with shelves full of cow ornaments dressed in peculiar costumes such as underwater gear and native American head dresses!
The whole look of the hotel is impressive, so it seems strange that just outside the entrance it looks like someone has built a garden shed. But step inside and you'll find yourself in the comfy Pichailan après-ski hut where you can enjoy a drink after a day on the slopes or a traditional meal such as a fondue.
The floor looks like it could do with a sweep as it is covered in discarded nut shells. This is because guests are actively encouraged to drop the shells on the floor after helping themselves to the bowls of nuts around the bar.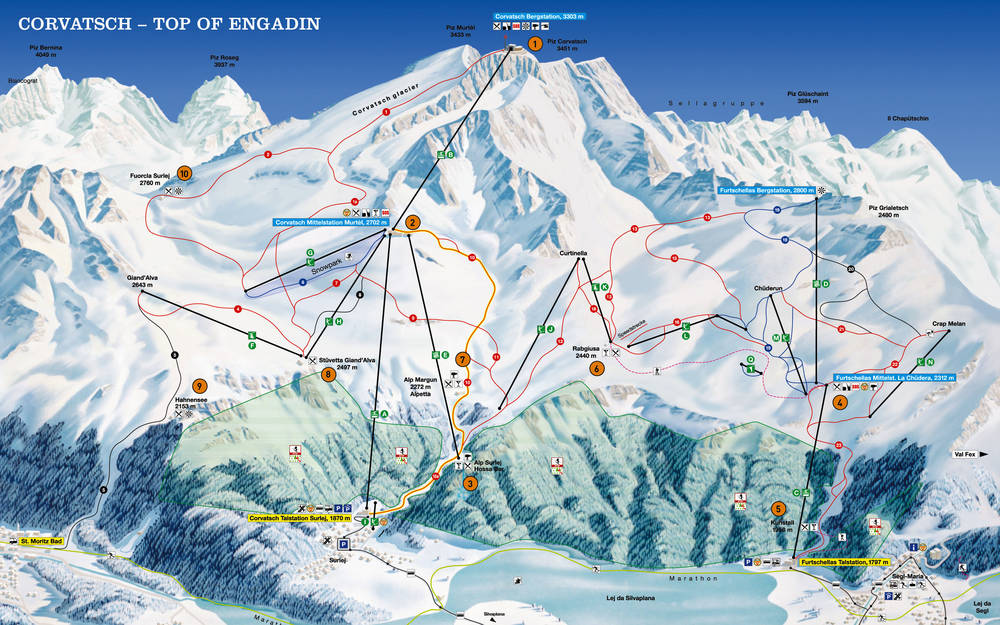 Nira Alpina's talented executive chef, Marek Wildenhain, said he got the idea after seeing it in another bar while on his travels. The bottom line for skiers and snowboarders visiting this part of the Engadine Valley is that they are spoilt for choice.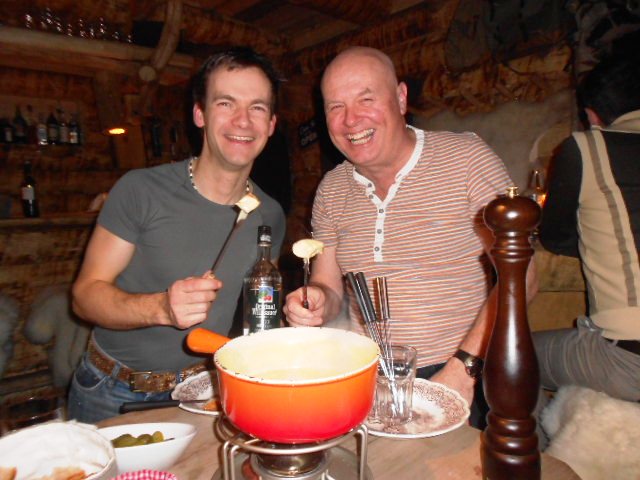 They can stay in St Moritz and mix with the nutcases who throw themselves down the Cresta run. Or they can book into Corvatsch and join the 'nut cases' in the Pichailan après-ski hut.
Did you see what we did there…?
Travel facts:
The Nira Alpina hotel can be found at Via dal Corvatsch 76, CH-7513 Silvaplana, Switzerland. Tel: +41 (0) 81 838 69 69. Email:info@niraalpina.com www.niraalpina.com
Switzerland Tourism
For more information on Swiss ski areas visit www.MySwitzerland.com
SWISS offers up to 19 daily flights from London Heathrow, London City, Birmingham and Manchester to Zurich. For reservations call 0845 601 0956 or visit: www.swiss.com
The Swiss Travel System provides a dedicated range of rail services with travel passes and tickets exclusively for visitors from abroad. The Swiss Transfer Ticket covers a round-trip between the airport/Swiss border and your destination. www.swisstravelsystem.co.uk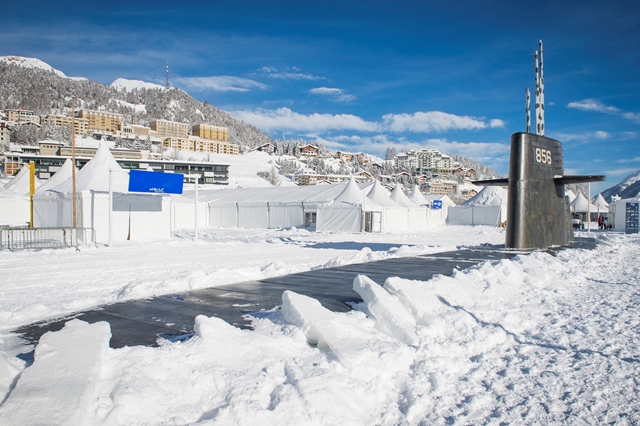 St Moritz does have its moments when it comes to rivalling Corvatsch's quirkiness. Earlier this season a submarine appeared to have surfaced in the middle of the town's lake.
It was in fact an art installation-cum-pop up bar, created by the Swiss inventor Andreas Reinhard, who made his name by creating the first upside-down hot-air balloon.
The piece of art was organised in conjunction with the resort and the Kulm Hotel St. Moritz during this season's White Turf horse racing event.
Built over a two-week period in a warehouse near Zurich, in utmost secrecy, it was then transported in pieces to St Moritz and assembled overnight so that its arrival was a complete surprise to local residents.