by Rob Freeman
TWO London teenagers are looking forward to a season working in a five-star hotel in the French Alps, thanks to a charity that helps inner city youngsters find positive careers in snowsports.
For 18-year-old Zulekha Dennis and 19-year-old Hamza Alkebida it means an opportunity to put into practice the skills they've learnt with Snow-Camp, the only UK organisation that uses wintersports to change the lives of young people who would otherwise be unlikely to have the chance of a career in the industry.
The pair will spend the winter as ski valets at Le Fitz Roy Hotel in Val Thorens, after being selected as Snow-Camp's representatives in an internship programme. The opportunity has come about due to the partnership between the charity and Les Hôtels d'en Haut hotel group.
Ten more youngsters will have the opportunity this winter to visit the same group's nearby Hotel Le Val Thorens and have comprehensive demonstrations of how life works in the mountains and in an Alpine hotel.
Zulekha and Hamza became involved with Snow-Camp when they were 13 and after being given the chance to try skiing and boarding at the Snow Centre in Hemel Hempstead became, despite initial apprehension, very quickly hooked.
"My first reaction when I got to the Snow Centre was – It's a massive freezer, what is this all about?" said Hamza. He soon found out – and loved it. So much so that he discovered a previously unsuspected sense of determination and ambition, which he channelled into the sport,resulting in him eventually qualifying as a Level 1 Snowsport England snowboard instructor.
"I find it amazing that now I'm teaching other people of my own age how to snowboard and helping give them the confidence and motivation that helped me, ' said Hamza. 'Getting my qualification is the best thing I could have done."
Zulekha's experience was similar. She joined the Snow-Camp programme through a youth centre near her home in Streatham and like Hamza was bemused at her first sight of the snowy indoor slopes of Hemel Hempstead.
"I was amazed when I looked through the glass and saw people skiing and boarding. I thought there's no way I can try that, that's not me," she said. And how wrong she was. She returned to Snow-Camp each year until she was old enough to also successfully complete the instructor course, in her case skiing rather than boarding.
Zulekha has been on a work placement at Ellis Brigham, the ski store chain, and is now a qualified ski boot fitter, as well as being a youth ambassador to youngsters joining Snow-Camp programmes.
Hamza and Zulekha eloquently and passionately addressed a Snow-Camp forum at the South Kensington Club in London to tell of their exciting and inspirational individual journeys through the different stages of the charity's development programme.
Also there to tell how determination and commitment were the keys to wintersports success and fulfilment were Snow-Camp ambassadors Graham Bell, a five times Olympic downhiller, and Jamie Barrow, Britain's fastest snowboarder.
Snow-Camp, whose ambassadors and patrons also include Sir Steve Redgrave and Olympic medallist Jenny Jones, first launched in London in 2003, before expanding nationally over recent years to Bristol, Scotland, Cardiff, the Midlands and Manchester. Over the last 15 years it has supported more than 10,000 young people across the UK.
One of its most recent campaigns, #Switch180, highlights that society needs to do more to provide positive opportunities for young people.
Last year, following completion of the Snow-Camp programme, 91 per cent of participants went on to employment, training or further education, 100 per cent gained one or more nationally recognised qualifications, 94 per cent said they had improved confidence, 98 per cent said they were proud of themselves and 92 per cent had improved fitness levels.
Snow-Camp's founder, Dan Charlish, told the forum: "We aim to inspire young people with the opportunities that the snowsports industries can offer them. And it can show that if they can achieve in this, then they can achieve in other areas of life too.
"We're so proud to be partnering with Les Hôtels d'en Haut. They are offering our young people an amazing opportunity to build on the skills they've learnt with Snow-Camp that will help them go on to securing successful careers in the ski industry. We can't wait for them to experience working in such an impressive ski resort."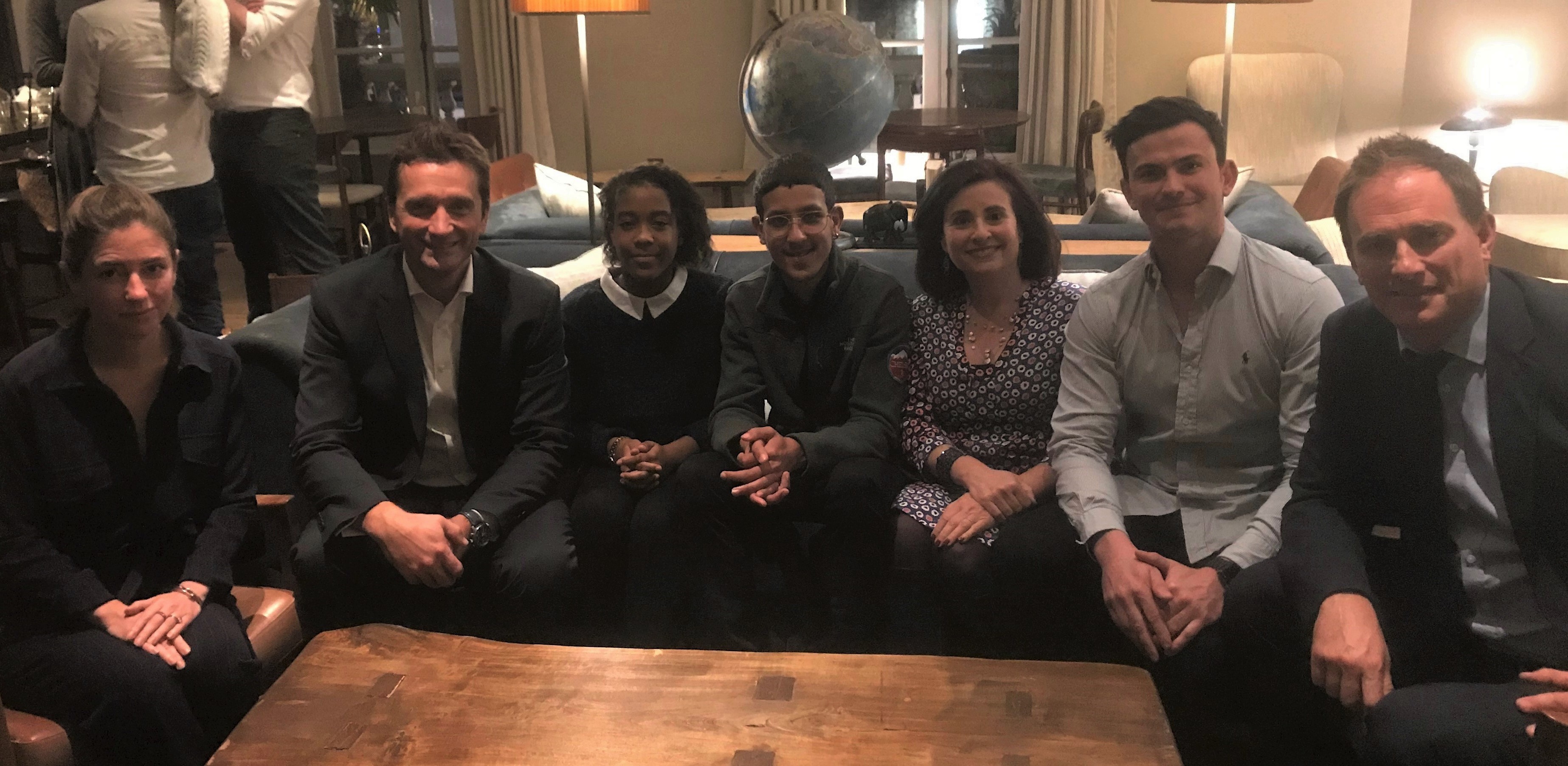 Snow-Camp line up: Pictured (l-r) is: Vanina Kovarski (Head of brand, product development and communication at Les Hôtels d'en Haut); Graham Bell (former British Olympic skier, TV presenter, adventurer and journalist); Zulekha Dennis and Hamza Alkebida from Snow Camp, who will be taking part in the Internship at Le Fitz Roy with Les Hôtels d'en Haut this season; Gisele Green (Founder of Constructive Voices, BBC radio presenter and producer); Jamie Barrow (former Team GB Snowboarder and Britain's fastest snowboarder); and Dan Charlish (Founder of Snow Camp).
Le Fitz Roy sits at the very heart of Val Thorens, The sophisticated hotel offers a friendly atmosphere in an understated luxury setting. Guests can enjoy ski-in / ski-out facilities, wind down in the extensive underground spa, settle into the chic yet homely bar for the evening, or enjoy a gastronomic sensation at the hotel's restaurant. The 48 hotel rooms are decorated in a refined yet comfortable style, which creates a home from home for friends, families and couples, inviting them to enjoy the luxury of timeless surroundings.
---
---
Categories: News