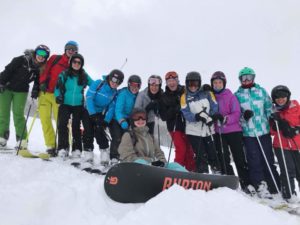 This is a photo of me on a great run in Livigno, Italy called 'The Lover's Piste' surrounded by a group of female medics. We all recently took part in the first annual ski medicine conference (WEMski18) organised by World Extreme Medicine (WEM) in conjunction with Livigno Snow Holidays, the Livigno Tourist Office and Mottolino Fun Mountain.
It was my first ski of this season and I had been invited to the conference to talk to the audience about how I handled stress during my ski jumping career while throwing myself off a ski jump!
The concept is to educate, inspire and also guide medical professionals through the process of operating in environments such as war zones where risk and pressure are immense. We discussed how they can apply coping mechanisms to their experiences. 
The first 'stressful' situation we all had to deal with was the amount of snow which, like many other ski areas in the Alps, caused flight delays and an avalanche risk on some roads to the resort.
Luckily, we were able to ski, but I heard from some friends in Val d'Isere who said they could only ski for two mornings during their stay. Looking on the bright side, the recent storms are good news for Alpine ski resorts generally because it means they are going to have plenty of snow for the rest of the season.
Although this was my first ski of the season, I did get in some ski jumping in Norway before Christmas when I did some publicity work as part of the New Year's Parade in London. Ironically at that time we had more snow in my home town of Gloucester than there was in Norway, but I ended up in being filmed going down a 40m jump close to Oslo where I jumped nearly 30 years ago.
The actual New Year's Parade has been going about 32 years and this year around 8,000 people took part and the parade attracted about half a million people to the West End of London.
As well as appearing there on New Year's Day, I also worked on Christmas Day for the first time when I was interviewed about the event on BBC Breakfast.
So, it was a busy festive period for me and I was back in front of the camera a week ago when I went to the Scottish resort of Glenshee to do some filming for Countryfile. It was a trip down Memory Lane for me as the last time I was there I was a ski instructor when I was aged 18. Although I did ride by the resort when I did a John O'Groats to Lands End cycle ride about 25 years ago.
I also gave a talk at a conference in Salt Lake City recently and I am going back to the States soon to take part in a ski festival in White Fish, Montana, which is celebrating its 50th anniversary. During my 10 days there I am going cat skiing which I'm really looking forward to. It will be nice to have a bit of 'me' time after all the running about I've been doing!
* Eddie 'The Eagle' Edwards will be writing for the Skier & Snowboarder throughout the season and beyond. The column is being supported by skiweekends.com who are also making a donation to the charity Ski 4 Cancer – www.ski4cancer.org
You can read Eddie's column in the magazine throughout the season and every month on the Skier & Snowboarder website
I've been busy during the summer and luckily for me I spent quite a bit of it on skis at indoor centres such as Chill Factore in Manchester and the Snow Centre at Hemel Hempstead.
At Hemel I joined TV presenter and former ski racer Graham Bell and snowboarder Aimee Fuller helping to get kids onto skis and snowboards during the National Schools Snowsport Week.
And then I was back at Hemel recently filming some scenes for Len Goodman's new TV series Partners in Rhyme.
But now what I am really looking forward to is going skiing with my kids. Even though they first learnt about four years ago we have not had the chance to go skiing together so we are visiting artificial slopes in the UK as often as possible in the build up to winter.
They have never skied on snow, only on plastic, so I am going to take them to somewhere like France this season. I am doing some work there for skiweekends.com so I am hoping we can fit something in between my jobs.
My 2017/18 season is already quite full as I have other trips arranged to Switzerland and Italy plus a couple of visits to North America. I am skiing in Montana but will also be combining some ski jumping and skiing in Canada with Kicking Horse Powder Tours.
I am also waiting for news about a possible trip to China to ski and jump to help promote the 2022 Beijing winter Olympics.
I am keen on trying out unusual places to ski such as Israel and Turkey which you don't automatically associate with snow and I hope to tick them off my list one day.
And when I do, I'll tell you all about them here.
* Eddie 'The Eagle' Edwards will be writing for the Skier & Snowboarder throughout the season. The column is being supported by skiweekends.com who are also making a donation to the charity Ski 4 Cancer – www.ski4cancer.org
You can read Eddie's column in the magazine throughout the season and every month on the Skier & Snowboarder website
I had some good fun at the Chill Factore in Manchester when they invited me to take part in the snow centre's 10th anniversary celebrations in November.
I joined up with all the instructors and we formed ourselves into a '10' formation to ski down the slope. I don't know if they were trying to tell me something, but I was part of the 'zero'!
When I was learning to ski, we didn't have real snow indoor slopes in the UK and it's good to see how many have sprung up over the last 10 years or so, with more in the pipeline.
However, I still think there is a place for the plastic artificial slopes as these ski centres offer a cheaper alternative for people wanting to get their first experience of skiing and snowboarding.
Obviously, it's great to be able to ski on snow at the indoor centres, but they are basically huge refrigerators, which means it costs quite a lot to run them and this has to be reflected in the entry prices.
Personally, I like to be outdoors, and very often the artificial slopes are surrounded by great scenery and have lovely views. Of course, you sometimes have to put up with wind and rain, but the plus side is the wet weather usually makes your skis and snowboards run even better.
This makes the plastic slopes great to race on, and we need more kids to be introduced to competitive skiing and snowboarding this way.
Another thing I think the real snow and artificial slope centres could all be used for is regional ski shows. In recent years we have seen the shows at Manchester, Birmingham and in Scotland all disappear and the only one left is London.
I attended this year's show at Battersea Evolution in October to meet up with Richard Barker, the MD at Kicking Horse Powder Tours. I donated some of my old jumping skis and Richard had them made into some chairs, which were then sold to raise money for charity. I also visited the Austrian stand as I am doing some promotional work with them this season.
But although the London show was attractive, it felt like it only took me about five minutes to walk around as it is nowhere near the size it used to be. Plus, if I wanted to take my family, it would cost me about £60 in rail fares before I had even bought tickets to get in or buy anything.
Therefore, I wonder if it would be better these days to have smaller regional shows that could take place at some of the slopes and ski centres around the UK?
Exhibitors and visitors are then already in a skiing environment rather than in an exhibition centre where, I feel, you lose a bit of atmosphere.
Despite such shows being on a much smaller scale, I think overall they could collectively pull in a larger audience from all over the UK, and could also highlight the services and attractions at the artificial slopes and indoor snow centres at the same time.
I am not saying I have all the answers when it comes to the future of ski shows, but this is the best solution I can think of – unless someone can think of a better one?
If you can, send me an email via the editor at the Skier & Snowboarder magazine or leave a comment below.
* Eddie 'The Eagle' Edwards will be writing for the Skier & Snowboarder throughout the season. The column is being supported by skiweekends.com who are also making a donation to the charity Ski 4 Cancer – www.ski4cancer.org
You can read Eddie's column in the magazine throughout the season and every month on the Skier & Snowboarder website