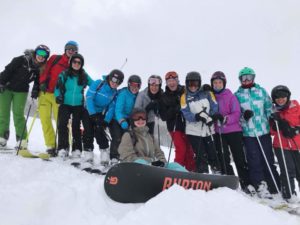 This is a photo of me on a great run in Livigno, Italy called 'The Lover's Piste' surrounded by a group of female medics. We all recently took part in the first annual ski medicine conference (WEMski18) organised by World Extreme Medicine (WEM) in conjunction with Livigno Snow Holidays, the Livigno Tourist Office and Mottolino Fun Mountain.
It was my first ski of this season and I had been invited to the conference to talk to the audience about how I handled stress during my ski jumping career while throwing myself off a ski jump!
The concept is to educate, inspire and also guide medical professionals through the process of operating in environments such as war zones where risk and pressure are immense. We discussed how they can apply coping mechanisms to their experiences. 
The first 'stressful' situation we all had to deal with was the amount of snow which, like many other ski areas in the Alps, caused flight delays and an avalanche risk on some roads to the resort.
Luckily, we were able to ski, but I heard from some friends in Val d'Isere who said they could only ski for two mornings during their stay. Looking on the bright side, the recent storms are good news for Alpine ski resorts generally because it means they are going to have plenty of snow for the rest of the season.
Although this was my first ski of the season, I did get in some ski jumping in Norway before Christmas when I did some publicity work as part of the New Year's Parade in London. Ironically at that time we had more snow in my home town of Gloucester than there was in Norway, but I ended up in being filmed going down a 40m jump close to Oslo where I jumped nearly 30 years ago.
The actual New Year's Parade has been going about 32 years and this year around 8,000 people took part and the parade attracted about half a million people to the West End of London.
As well as appearing there on New Year's Day, I also worked on Christmas Day for the first time when I was interviewed about the event on BBC Breakfast.
So, it was a busy festive period for me and I was back in front of the camera a week ago when I went to the Scottish resort of Glenshee to do some filming for Countryfile. It was a trip down Memory Lane for me as the last time I was there I was a ski instructor when I was aged 18. Although I did ride by the resort when I did a John O'Groats to Lands End cycle ride about 25 years ago.
I also gave a talk at a conference in Salt Lake City recently and I am going back to the States soon to take part in a ski festival in White Fish, Montana, which is celebrating its 50th anniversary. During my 10 days there I am going cat skiing which I'm really looking forward to. It will be nice to have a bit of 'me' time after all the running about I've been doing!
* Eddie 'The Eagle' Edwards will be writing for the Skier & Snowboarder throughout the season and beyond. The column is being supported by skiweekends.com who are also making a donation to the charity Ski 4 Cancer – www.ski4cancer.org
You can read Eddie's column in the magazine throughout the season and every month on the Skier & Snowboarder website
---
---
Categories: Skiing with Eddie