Michael Cranmer put on a pinny – well an apron actually – and travelled to La Rosiere in France to find out just what it takes to become a chalet host
Picture the scene. You've saved up, trawled the web for the perfect chalet for your precious week's skiing or snowboarding, checked and re-checked what you'll get for your hard-earned money, and finally booked it. The flight was pre-dawn, transfer slow and traffic-bound, but as you arrive, snow is falling and you begin to unwind.
Two possible scenarios now present themselves.
The host is waiting outside, smiling, welcoming you to a warm, brightly-lit chalet, log fire crackling in the corner, the smell of coffee in the air. They know your names, take your bags, and instantly you know this is going to be a good week. Or…
No host waiting, you carry your own bags, the chalet is cold and smells of cheap air-freshener. Eventually the host appears wearing an apron and rubber gloves. You fear this is definitely going to be a bad week.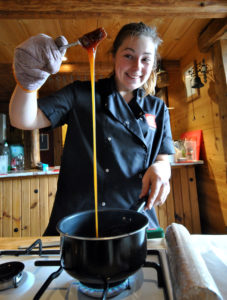 Chances are that your Chalet Host in Scenario 1 was trained by Green Rides Chalet Cookery School in La Rosiere, France. Over seven intensive days, highly skilled instructors guide wannabes through every aspect of hosting.
They cover food and recipes, table-laying and ambience, knowledge of cheese and wine, shopping and budgeting, hygiene and housekeeping, spa maintenance, time management, wood chopping, fitting snow chains, customer service standards, client handling and basic language skills, job assistance, advice and interview techniques, and CV writing. Phew!
The Green Rides courses attract a wide range of students. When I was there my training colleagues included a middle-aged-woman looking for a new challenge, an inner-city school-leaver looking for excitement and snow and a former Harrovian cool-as-cucumber 18-year-old.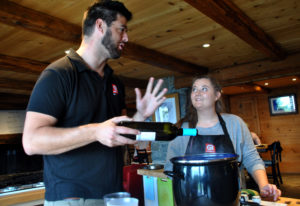 All students are treated the same. All will chop onions and wood, clean worktops and floors, taste and learn about French wines, create eye-catching plates of food they have cooked, and all will be up at 6.30am to cook breakfast and will not finish until around 10pm each day.
Some have been known to falter under the relentless workload: "Mop the floor, please! "Don't put that back in fridge without covering and dating it!
"Wash your hands – you just touched your hair!"
But when I visited nobody cracked. As the week progresses our disparate group start to coalesce into a team.  What were shapeless lumps of food on plates start to be given love, care, and little bit of the creator's personality. A wedge of bland cheesecake is zapped with a silhouette of a skier. Hey Presto! Now we're cooking.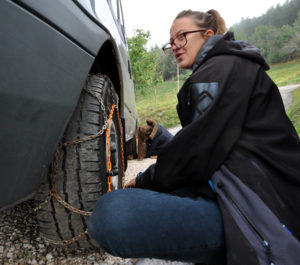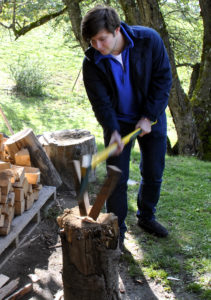 Outside we attempt some down-and-dirty snow-chain work. Try again, try again. Good, you've got it. Try against the clock. The record so far? One minute 30 secs. Next, wood chopping without injury. Students start to enjoy the pure physical act of using an axe. A 10-minute break and then it's back inside for Food and Hygiene Cert. Level 2. After some extra coaching everyone passes. Smiles all round.
Students are constantly assessed by Martyn Hanley the Course Director. A big former rugby playing Yorkshireman, who dominates the kitchen, cajoling, laughing, repeating his mantra until the would-be hosts get it.
"Failure is not an option," he booms.
Shy egos are coaxed out, rough-edges smoothed. "97% of students looking for chalet work are successful after doing this course" he says. "On the penultimate day I arrange for face-to-face, or Skype, interviews with companies like Alpine Elements, Ski World, Skibug, Skidazzle, Ski Beat, and Skivo 2. We helped 745 students to get jobs last season alone."
Many students join courses with companies such as Green Rides because they have been skiing or snowboarding, love it, and want to spend more time in the mountains. Plus there is usually the extra bonus of a season-pass, free food (and drink) and a place to crash out.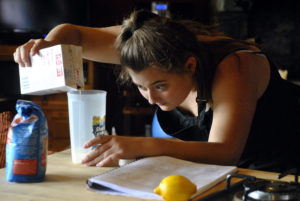 But what they have to get to grips with is that they are no longer on holiday, they are at work. Some do fall by the wayside, but if they're well-trained, it will help them get organised: get up, get breakfast, get cleaned up, get out on the snow, get back, get tea, get the meal, get cleaned, and get out.
Stories and legends abound, like the Chalet Host who got to bed for an hour before having to make breakfasts. He got up, put his uniform on, completed his tasks (somewhat blearily) put his ski gear over his uniform, went skiing, got back to the chalet and took his ski stuff off, cooked and cleaned up, and took his uniform off to get ready to go out for the night.
It was then he realised he still had his pyjamas on as he had forgotten to take them off when he put his uniform on in the morning!
He was certainly NOT a graduate of Green Rides Chalet Cookery School.
Fact box
Green Rides Chalet Cookery School operates for 10 weeks, July to mid September. Prices from £599 (DofE discounts available)
The company also has serviced winter chalets in four resorts – La Rosiere, Val D'Isere, Morzine and La Plagne.
Call: +44 (0) 203 286 2218