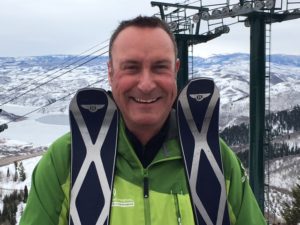 There were some amazing ski properties on show when NEIL ENGLISH visited the Utah resorts of Deer Valley and Park City, which now claims to be the biggest ski area in America. But one well-heeled owner of a slopeside mansion is now having to eat a slice of humble pie…
AFTER Americans out-shocked the UK's Brexit decision with their vote for Donald J Trump, former Republican Presidential nominee Mitt Romney probably felt like running for the Utah hills to take refuge in his $9million ski lodge.
I saw his mountain hideaway during a ski trip and can confirm that it would be the perfect refuge for some political rehabilitation – for which Mr Romney would have been sorely in need.
Before the US election, I had joined staff and guests in my Utah hotel to watch him on television, publicly denouncing Donald Trump, his fellow party member – he called him 'a phony and a fraud'. Romney, himself a former Republican nominee who lost the 2012 election to President Obama, warned against the potential disaster of letting Trump run for the White House.
Romney's pleas, of course, went unheeded. To add salt to the wound, Trump even won the state of Utah, from where Mr Romney, possibly while trying to soak away his despair in the giant hot-tub on the deck, had little choice but to send him a congratulatory tweet. His wife Ann, it is said, had to press his finger on the send button as he tackled this slice of humble pie.
Ironically, the surprise electoral outcome will not, it seems, allow Romney more time on the ski slopes – he's apparently needed by Trump in Washington despite his lambasting of the new president.
The dedicated 69-year-old Mormon, who headed the organising committee for the 2002 Salt Lake City Winter Olympics, will have to wait before he can retire to his lovely piste-side holiday home in Deer Valley.
On my trip there I stopped to take a picture of the six-bedroom mansion, with 8,730 square feet of living space. And as it happened, I felt very much at home in these affluent surroundings, thanks to the skis on which I was cruising Deer Valley's luxurious slopes – some extremely handsome-looking boards with a price tag of $10,000 a pair!
They were hand made by Zai skis in Switzerland and finished with a Bentley cosmetic, and on loan to me from the posh Gorsuch shop on Park City's Main Street. I guarded them with such devotion that I was sure the President's own secret service agents could not have done a better job.
But I had bigger ski areas to explore and happier local VIPs to discover. Next door to Deer Valley is the ski area of Park City, famous for hosting the Sundance Film Festival and being the U.S Ski Team's official training ground.
An eight-person gondola was installed last season to link up with the neighbouring Canyons resort, giving Park City and its new owner, Vail Resorts, the bragging rights to 'America's Largest Ski Area'. The name 'Canyons' has now been dropped and integrated under the Park City banner although locals say it will still always be The Canyons to them.
The 7,300 skiable acres constitute an impressive and diverse playground comparable, in groomed trails, to about half the size of the Three Valleys in France but with extra heaps of off-piste spread amongst the 14 bowls and elsewhere. This is all included on Vail's ever more encompassing Epic Pass.
My guide, Alex, collected me from the Snow Flower condominium complex which has the advantage of being slope-side, though sadly not convenient for access to the wonderful town of Park City. We headed for the new Quicksilver gondola and from the top did a run down the White Pine piste.
After the gondola ride, the four-seater Dreamcatcher chair seems very slow but it does give you time to have a good look at the highly desirable ski-in, ski-out residential enclave below known as The Colony. One of the more modest homes here could be yours for $10 million. One larger property was on sale for $37 million.
Park City dwellers can't get over to this side before 10am so Colony locals get a good hour of priority free-riding on a powder day.
Alex took me on an exhilarating blast down Alpenglow, onto the Harmony trail which all adds up to one of the Canyons' longest runs from the top of Peak 5 down to the Tombstone Express chair. He screeched to a halt, half way down, to point out film star Will Smith's rather attractive home with lone Aspen tree, chateau-style turret feature and superb views.
Alex told me he taught Taylor Swift when she rented a home in The Colony a few years back, with her mum and Selena Gomez – it was while Selena was reportedly dating Justin Bieber. By all accounts it was not a pleasant experience for Alex, so more for legal reasons than to spare Miss Swift's reputation, we'll leave that anecdote alone because as Alex said, 'it goes with the territory'.
Park City has plenty of great terrain for all ability levels but particularly intermediate and expert.
On a clear day with new snow the vast high mountain amphitheatre of Jupiter Bowl boasts some of the best skiing and views in the Wasatch range. Being able to cruise all the way to town, then kicking off your skis outside the High West Distillery before grabbing a cocktail or even lunch, is something of a treat too.
It really is the town that is king for me. Park City is one of America's authentic ski towns, complete with mining, logging and cowboy ranching heritage. It's up there with the likes of Jackson in Wyoming, Aspen, Telluride and Crested Butte in Colorado, Ketchum in Idaho, and Bozeman in Montana.
Perhaps Park City's 100 bars, live music, wealth of boutiques, art galleries and restaurants, including Zoom, Robert Redford's fine dining establishment, help its appeal too.
Apres-ski is a lot of fun here – epitomised by a different sort of cocktail I discovered called a Sazerac. The inside of a tumbler is coated with absinthe and rye whiskey, aromatic bitters and lemon zest are added. The glass's rim is coated with lemon juice and sugar. The outcome is mind altering! Being a Mormon, Mitt Romney must be teetotal. Shame – this could make him feel a whole lot better.
TRAVEL FACTS
Ski Independence (www.ski-i.com 0131 243 8097) offers a twin centre stay including five nights at Snow Flower condos in Park City and two nights in the Chateau at Deer Valley including the new direct Delta Airlines flight from London to Salt Lake City, plus car hire, from £1,749 per person. The company has a range of accommodation available in all resorts.
Useful websites:
Deer Valley – www.deervalley.com
Park City – www.parkcitymountain.com
---
---
Categories: America