Frank 'Scoop' Baldwin, editor of the Skier & Snowboarder magazine writes:
I skied the Berthoud Pass Ski area in Colorado about 25 years ago – and it was of my most memorable ski days ever.
The Denver Post has reprinted some historic photos of what is believed to be the first ski resort and lift in Colorado and you can see them by clicking here.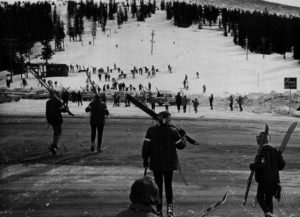 Once you were at the top of the lifts you skied down between trees in unpisted deep powder, dropping out into the road at the bottom of the pass where a bus would pick you up to take you back to the lifts.
It was proper 'get away from it all' skiing. So, I was very sad when in 2002 I saw that the ski area had shut down due to financial problems.  A year later the lifts were taken down, but Berthoud Pass refused to lie down and die. Skiers and snowboarders – the area was one of the first in Colorado to accept boarders – continue to hike or use snowcats to access the great powder runs.
Although the original ski lodge was demolished some years ago, a new warming hut was built in 2008 and a group called the Friends of Berthoud Pass has formed with the intention of keeping the memory of this great ski area alive through safety, access and education. The non profit organisation was founded in 2003 by ski patrollers and backcountry riders.
---
---