After courting each other for several years, two Austrian ski areas have settled into married life after tying the knot with a new €13.5m gondola. ROB FREEMAN raises a glass of turnip schnapps to celebrate
If two ski areas have been crying out for decades to be joined in happy union, then it's Alpbach and Auffach. The marriage has taken place and what a lovely couple they make. They were made for each other and enjoyed their first winter together so much that it looks as if the honeymoon will go on and on.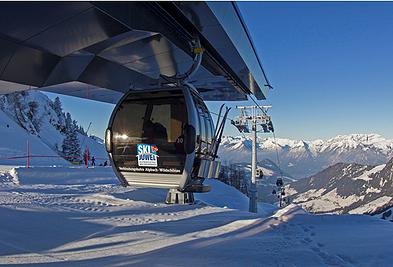 They have a silly new name of course. Unions such as this always means a re-branding – in this case Ski Juwel. Not that anyone will use the name. 'Oh, we're going to Ski Juwel this year!' 'Sounds marvellous darling, where is it?' No, people will still book a holiday in Alpbach, or the Wildschonau, of which Auffach is a main part. It took just one gondola system, costing €13.5m, to join these two long-established areas in Tyrol, creating a combined ski area of 145kms of piste and 47 lifts. But that was after 12 years of sometimes heated discussions between Alpbach and
Wildschonau to agree on the link-up deal. But once agreement was reached, the project came to fruition rapidly. And it has been hailed an almost immediate economic success. Lift pass prices were raised by 10% as part of the funding arrangements, but ticket sales rose 20%. Alpbach, acknowledged as one of the most beautiful villages in Austria with gorgeous ski slopes over rolling summer pastures, has long been incredibly popular with Brits. Generations of the same family have learned to ski there, showing great loyalty to the village.
But in fact the Wildschonau, comprising the villages of Neiderau and Oberau as well as Auffach, is much older in ski terms, although not traditionally such a big draw for Brits. Its first chairlift, also one of Austria's first, was installed in 1945, 15 years before Alpbach got its first. And the Wildschonau was the more eager suitor in the recent union. It's a significantly bigger destination, with more than twice as many as Alpbach's 3,500 holiday beds, and probably has more to gain from being able to boast a greatly enhanced ski area.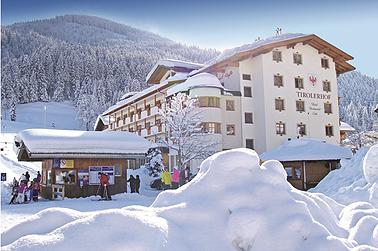 Alpbach was always worried that a link-up would have a negative impact on its intimate, cosy and exclusive image. It need not have worried. Its charm and traditional rustic feel has simply transferred itself seamlessly to a wider area. It is still the authentic, family-orientated, hospitable Tyrolean village it ever was – but with a sudden doubling of the amount of skiing it can offer guests.
Quirkily, the gondola follows an intriguing dogleg route, apparently because one farmer refused permission for it to go over his land (a similar situation exists with a gondolabahn at Franz Klammer's home resort of Bad Kleinkirchheim). The rest of the skiing of the Wildschonau is not interlinked with Auffach and regular shuttle buses link the other two resorts of Neiderau and tiny Oberau. The link-up allows Alpbach guests, as well as the chance of more skiing, the opportunity to see an ancient farming community of real character.
The Wildschonau has the feeling of a remote hanging valley, despite the fact that it's only about 20 minutes, via a winding mountain road, from the Inn Valley and the bustling town of Worgl.The valley has some ancient unique traditions such as the right, conferred by royal warrant, to make turnip schnapps (difficult to get past your nose, although it is said to have remarkably efficacious properties). An annual turnip schnapps competition is held among the Wildschonau farmers to celebrate the fact.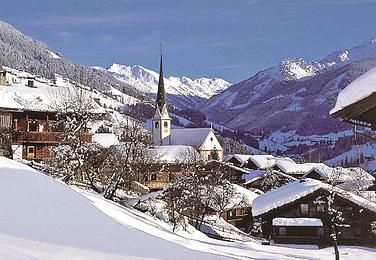 The link-up benefit to Wildschonau guests is the more straightforward one of offering a range of generally more challenging slopes than those found on their immediate doorstep. At present it's possible to ski only half-way down the slope to Alpbach from Schatzberg, 2kms to the mid-station, from where you ride the gondola to Inneralpbach. But the run is to be completed, once the exact route and funding is decided upon.
The project has also changed Inneralpbach from a backwater hamlet on the fringes of Alpbach's ski area into a key junction and the obvious place to stay to make the most of both ski areas. But then again, it will take an effort of will to prise guests from the habit of staying amid the beauty of Alpbach itself.
This is, after all, a very Austrian ski circus. The skiing is more expansive, but the villages and farms, the hoteliers and shopkeepers and local families retain their community values. In both valleys, the Wildschonau and Alpbachtal, life goes on as it did before the new gondola was built – just with the prospect of more gentle affluence, and more satisfied guests, to come.
TRAVEL FACTS
Inghams (www.inghams.co.uk – 01483 791 114) has seven nights at the four-star Romantik-Hotel Böglerhof in Alpbach, a hotel dating back to the 15th century, from £560 per person half board, including flights from Gatwick to Innsbruck and transfers. The hotel hosts free wine tasting in the old cellar bar and has heated outdoor and indoor pools and a spa with jacuzzi, sauna, steam room and gym.
In the Wildschonau, Inghams has seven nights at the three-star Hotel Tirolerhof in Oberau from £584 per person half board, including flights and transfers. The hotel is right next to the slopes and has an indoor pool and spa.
More information at:
www.alpbachtal.at
www.wildschonau.com
www.skijuwel.com
www.austria.info/uk