After courting each other for several years, two Austrian ski areas have settled into married life after tying the knot with a new €13.5m gondola. ROB FREEMAN raises a glass of turnip schnapps to celebrate
If two ski areas have been crying out for decades to be joined in happy union, then it's Alpbach and Auffach. The marriage has taken place and what a lovely couple they make. They were made for each other and enjoyed their first winter together so much that it looks as if the honeymoon will go on and on.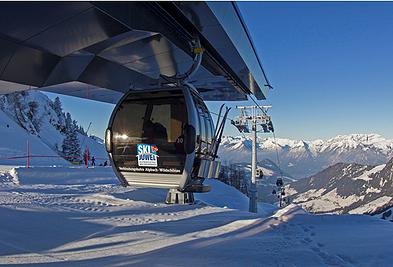 They have a silly new name of course. Unions such as this always means a re-branding – in this case Ski Juwel. Not that anyone will use the name. 'Oh, we're going to Ski Juwel this year!' 'Sounds marvellous darling, where is it?' No, people will still book a holiday in Alpbach, or the Wildschonau, of which Auffach is a main part. It took just one gondola system, costing €13.5m, to join these two long-established areas in Tyrol, creating a combined ski area of 145kms of piste and 47 lifts. But that was after 12 years of sometimes heated discussions between Alpbach and
Wildschonau to agree on the link-up deal. But once agreement was reached, the project came to fruition rapidly. And it has been hailed an almost immediate economic success. Lift pass prices were raised by 10% as part of the funding arrangements, but ticket sales rose 20%. Alpbach, acknowledged as one of the most beautiful villages in Austria with gorgeous ski slopes over rolling summer pastures, has long been incredibly popular with Brits. Generations of the same family have learned to ski there, showing great loyalty to the village.
But in fact the Wildschonau, comprising the villages of Neiderau and Oberau as well as Auffach, is much older in ski terms, although not traditionally such a big draw for Brits. Its first chairlift, also one of Austria's first, was installed in 1945, 15 years before Alpbach got its first. And the Wildschonau was the more eager suitor in the recent union. It's a significantly bigger destination, with more than twice as many as Alpbach's 3,500 holiday beds, and probably has more to gain from being able to boast a greatly enhanced ski area.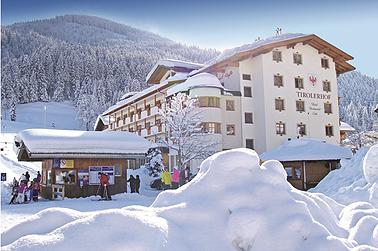 Alpbach was always worried that a link-up would have a negative impact on its intimate, cosy and exclusive image. It need not have worried. Its charm and traditional rustic feel has simply transferred itself seamlessly to a wider area. It is still the authentic, family-orientated, hospitable Tyrolean village it ever was – but with a sudden doubling of the amount of skiing it can offer guests.
Quirkily, the gondola follows an intriguing dogleg route, apparently because one farmer refused permission for it to go over his land (a similar situation exists with a gondolabahn at Franz Klammer's home resort of Bad Kleinkirchheim). The rest of the skiing of the Wildschonau is not interlinked with Auffach and regular shuttle buses link the other two resorts of Neiderau and tiny Oberau. The link-up allows Alpbach guests, as well as the chance of more skiing, the opportunity to see an ancient farming community of real character.
The Wildschonau has the feeling of a remote hanging valley, despite the fact that it's only about 20 minutes, via a winding mountain road, from the Inn Valley and the bustling town of Worgl.The valley has some ancient unique traditions such as the right, conferred by royal warrant, to make turnip schnapps (difficult to get past your nose, although it is said to have remarkably efficacious properties). An annual turnip schnapps competition is held among the Wildschonau farmers to celebrate the fact.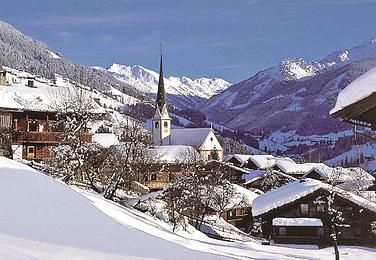 The link-up benefit to Wildschonau guests is the more straightforward one of offering a range of generally more challenging slopes than those found on their immediate doorstep. At present it's possible to ski only half-way down the slope to Alpbach from Schatzberg, 2kms to the mid-station, from where you ride the gondola to Inneralpbach. But the run is to be completed, once the exact route and funding is decided upon.
The project has also changed Inneralpbach from a backwater hamlet on the fringes of Alpbach's ski area into a key junction and the obvious place to stay to make the most of both ski areas. But then again, it will take an effort of will to prise guests from the habit of staying amid the beauty of Alpbach itself.
This is, after all, a very Austrian ski circus. The skiing is more expansive, but the villages and farms, the hoteliers and shopkeepers and local families retain their community values. In both valleys, the Wildschonau and Alpbachtal, life goes on as it did before the new gondola was built – just with the prospect of more gentle affluence, and more satisfied guests, to come.
TRAVEL FACTS
Inghams (www.inghams.co.uk – 01483 791 114) has seven nights at the four-star Romantik-Hotel Böglerhof in Alpbach, a hotel dating back to the 15th century, from £560 per person half board, including flights from Gatwick to Innsbruck and transfers. The hotel hosts free wine tasting in the old cellar bar and has heated outdoor and indoor pools and a spa with jacuzzi, sauna, steam room and gym.
In the Wildschonau, Inghams has seven nights at the three-star Hotel Tirolerhof in Oberau from £584 per person half board, including flights and transfers. The hotel is right next to the slopes and has an indoor pool and spa.
More information at:
www.alpbachtal.at
www.wildschonau.com
www.skijuwel.com
www.austria.info/uk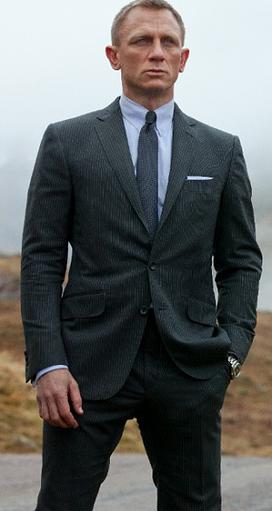 James Bond may be able to save the world with a twinkle in his eye and a few gadgets provided by 'Q', but even he would have had trouble overcoming the hurdles we encountered trying to get photographs and information about his exploits on skis and snowboards.
On our journey there were more twists, turns and misleading information than one of 007 author Ian Fleming's famous stories. After several calls and e-mails to various press and PR agencies we were eventually given a 'secret' password to an online photographic library where we were told we would find all the hi resolution photos we wanted – but this too was a dead end as it only contained pictures of the latest film Skyfall.
By following a number of clues, our 'agents' tracked down an organisation claiming to be the UK's official James Bond fan club. We thought they would jump at the chance of raising the club's profile. But just like the Bond villians who are intent of world domination, they made demands we could not meet.
So on to the ski areas. Surely they would have plenty of photos in their archives from when the world's most famous secret agent with a licence to kill came calling. The tourist offices were extremely helpful and came up with some nice anecdotes, but even they could not uncover much photographic evidence from their own files.
In this techno age it is fairly simple to log onto a social media website like Youtube and find any scene you want from a James Bond movie. But finding hi resolution photographs appears to be a different matter.
Eventually, by using all the latest technology and information at our disposal, Skier & Snowboarder agents have pieced together a short history of 007 on skis.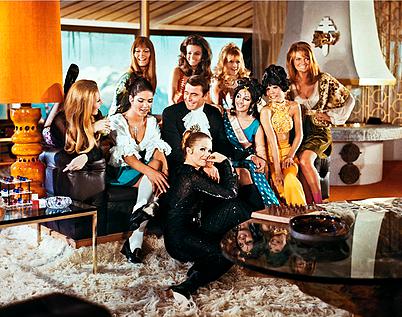 George Lazenby may have only made one Bond film, but he was the first 007 to appear on skis in 'On Her Majesty's Secret Service' (1969) during which Bogner, the ski clothing line that was to feature in several more films, made its first appearance. Like many Bonds, Lazenby was not allowed to actually ski during filming due to stipulations made by insurers and his action scenes were shot using a stunt double. Ironically though there were rumours that Lazenby often held up production by going out skiing when he wasn't filming.
The main ski action took place when Bond makes his escape from Blofeld's HQ. The scenes were shot at Piz Gloria, the revolving restaurant on the Schilthorn near Mürren in the Swiss Alps. This is shortly followed by more ski action when he has to flee on skis with his love interest Tracey, played by Diana Rigg after a car chase in Murren.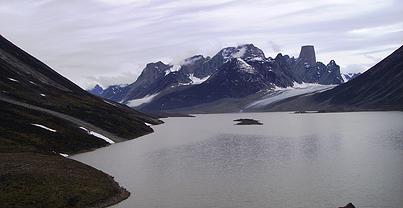 One of the best openings to a Bond film was in The Spy Who Loved Me (1977) when 007, in the form of Roger Moore, skies off the side of a mountain while being chased by baddies. He floats to the ground using a massive union jack parachute. We thought it would be easy to get a photograph of this iconic scene… but we couldn't!
However we did discover that although the movie starts with Bond's boss 'M' being told 007 was in Austria, the ski scenes were actually shot in Switzerland and the jump off the mountain was filmed on the 3,000ft Asgard Peak, 50 miles from the town of Pangnirtung, Auquittuq National Park on the east coast of Baffin Island, Nunavat in Canada. Even the film's title was not all it seemed. Although The Spy Who Loved Me was one of Ian Fleming's James Bond books, the storyline was not used for the film.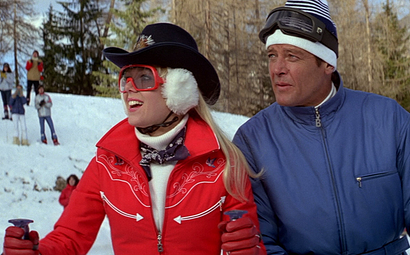 Once again Moore did not ski himself while being filmed, but the mountain scenery inspired him to take up the sport and he has since become a keen skier. Roger Moore was still learning to ski when he took to the slopes of Cortina D'Ampezzo in Italy when filming For Your Eyes Only (1981). A local ski instructor was hired to be 007's double in the ski scenes which included Bond being chased by armed gunmen on spiked wheeled motorcycles.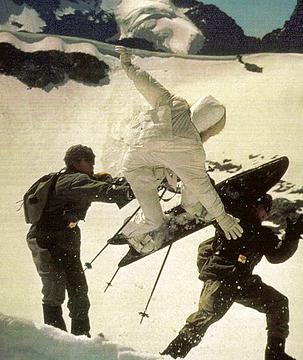 For close ups, Moore was put on a sled and then pulled along to create the effect of wind blowing through his hair. However the 'magic of the movies upset some of the locals from Cortina when the film came out. The complained about one of the car chase scenes which showed the vehicles going into a turn at Pocol before immediately appearing in front of the skijump at Zuel, which the locals say is not possible.
With James Bond just about to take to the Austrian ski slopes in Spectre, the latest 007 movie, the Skier & Snowboarder takes a look back at the times the superspy has donned a pair of skis or a snowboard on the big screen. Daniel Craig who is taking ski lessons for the new James Bond film Spectre.
The parachute jump at the start of The Spy Who Loved Me was made in Canada from the 3,000ft Asgard Peak flat top peak to the right of centre in the picture above
A View To A Kill (1985) saw Roger Moore, or at least his double, on skis again, this time in the glaciers and mountains of Siberia, Russia. But when one of his skis breaks he fashions a snowboard out of the wreck of a snowmobile to escape machine gun toting baddies to the accompaniment of 'California Girls' by the Beach Boys playing in the background.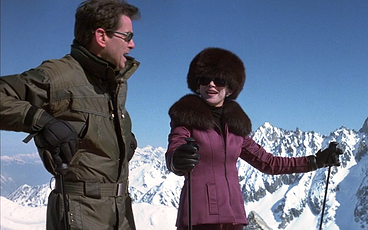 The snowboard stunts were performed by the former champion snowboarder and skateboarder Tom Sims who died in 2012 at the age of 61. He founded Sims Snowboards in the 70s. The story goes that Tom convinced the film makers that he could skim across the top of a lake for one of the scenes and then did it in one take. He later admitted that he had never done anything like this before!
During the making of The World Is Not Enough (1999) we are led to believe Bond is in the Caucasus Mountains of Azerbaijan, but actually the ski scenes were shot in Chamonix in France. On this occasion Pierce Brosnan swapped Bond's blue outfit for an all in one suit.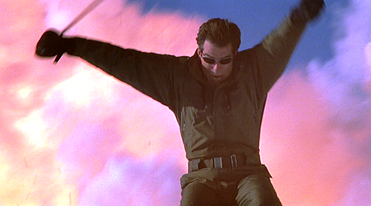 'Q' equipped it with an inflatable bubble which 007 used to protect himself and Elektra King, played by Sophie Marceau, when they were caught in an avalanche which is set off during an attack by a paragliding snowmobiles. There are reports that filming was actually delayed by a real avalanche and members of the film crew helped with the rescue operations.
Another little known James Bond/Chamonix connection is that The parents of 007 creator Ian Fleming are reported to have died in the French resort as a result of a climbing accident.