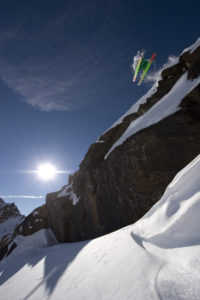 There are some clandestine activities going on in Sölden that would be worthy of a spy thriller story.
But then that's not surprising as the ski area, located in the Austrian Tyrol, found itself in the media spotlight in 2015 when it was used as one of the locations for the James Bond film Spectre.
The resort has announced it is teaming up with one of Europe's leading ski lift companies, Cable Car Companies Sölden, to design and build a new architectural masterpiece which will house a permanent James Bond cinematic exhibit.
But in true 007 style the exact nature of this exhibit is being kept a closely guarded secret – and that includes the name.
The tourist office has promised all will soon be revealed and it is hoped more tourist will flock to the resort to see where the film magic was made.
The iconic ice Q restaurant which 'starred' in Spectre is already drawing the crowds. It was built by award winning Tyrolean architect Johann Obermoser and visitors can enjoy a 007 cocktail and other Bond themed delicacies while drinking in the stunning views across Germany, Italy and Austria.
Let's hope this latest mysterious venture will be a golden goose, or should we say 'gun' for Sölden (sorry we couldn't help it!).
For more information about Sölden visit:  www.soelden.com
---
---